Comics Launchpad
COMICS LAUNCH PAD is a new and exciting event brought to you by International Comic Shows, the organisation behind the long-running British International Comics Show, and the Comic Book Alliance will have a major presence there.
A one-day conference aimed at professionals, aspiring professionals and those with a serious interest in the business of making comics, Launch Pad promises to be an enlightening and fascinating experience.
With emphasis on the digital revolution that is sweeping the industry, there has never been a more exciting and challenging time for the medium. Launch Pad will examine and embrace these changes which affect not just how we create comics, but also how we deliver them to readers. All aspects of traditional and digital methods of creating and distributing comics, as well as the ever growing and diverse self-publishing movement, will be covered in depth.
The Comic Book Alliance will be on hand to chat to delegates about the work we're doing to promote the cause of UK comics, plus we'll be launching our charity anthology, The Spirit of Hope, during the event. Comic Book Alliance chair Tim Pilcher will also be giving a talk on how to succeed as a comics pro in a global market, something not to be missed.
The Comics Launch Pad takes place on Saturday June 18th 2011 at the The Studio, 7 Cannon Street, Birmingham, B2 5EP. For more details, head over to the Comics Launch Pad site.
---
Bristol Expo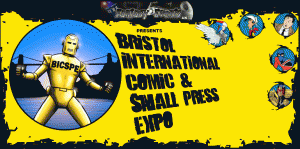 Featuring guests from here and abroad, the expo takes place at the Ramada City Inn and the Mercure Holland House Hotel. Apparently, it's already 90% full.